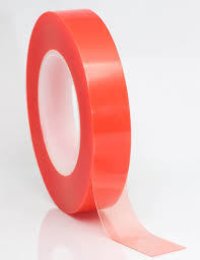 Double Side Polyster Tape
Product Description
The double sided polyester tapes are mainly made out of solvent adhesive to withstand heat, cold, water, solvent and high or low peel adhesion. You get the double sided polyester in two grades:
General: it is generally used to stick carpets and mats or any other material to the floor. This comes with a paper liner.
This is a high grade double sided polyester with super thin but flexible carrier and strong adhesive with a wetness quotient to bend and to adhere to rough and non rough surfaces. This tape also has excellent adhesion, good temperature and humidity resistance.

This tape is mainly used in commercial graphics, led and sticking posters on smooth surfaces.
It also is widely used in sticking metal labels permanently without using rivets.

This comes with a red MOPP liner.
Contact Us
Plot no. A-3/3 Hojiwala Industrial estate, Road No. 10, SUSML, Sachin, Surat, Gujarat, 394230, India
Phone :+918068090546